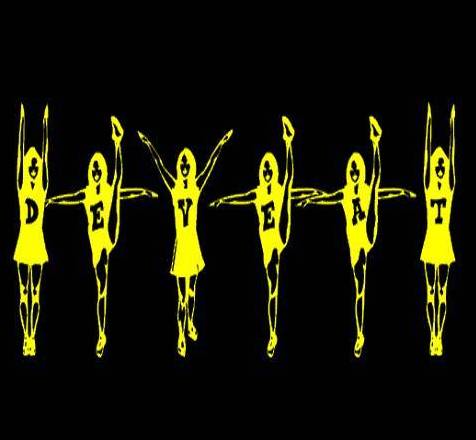 bio photos music merchandise press articles and reviews links Message Board places and art work videos
Band news and Commentary
5-14-2005
two and a half months have gone by since the last commentary on this section and it has been two and a half eventful months. from traveling out of town to the local gigs and line up changes. after having our last lead guitarist hector announce that he was leaving the band so abruptly and unexpectedly for personal reasons (that only he knows, but we respect), we've decided to keep deveat a three piece band, carlos will be taking on the duties of lead guitarist while adan and santini will remain on their current roles of bassist and drummer respectably . after six years of line up changes it seems that only three members always remain constant while the fourth one leaves, having experienced this several times the decision of transforming deveat into a three piece band has been made. while having a fourth member always proves helpful and makes the music more colorful and interesting, the set backs outweigh the benefits when the fourth member decides to quit the band. we know we'll keep on the look out for any possible musician that proves his/her dedication to music and would like to join our band, but as of now trying to find another member is not a priority. on other news, we'll be heading back into the studio pretty soon and possibly our third album will be complete by fall of this year, thanks for reading.
p.s. new t-shirt designs coming soon, ideas welcome!!!
2-28-2005
well i think everyone is aware of what happened at the battle of the bands fiasco that took place at the civic center organized by the l.u.l.a.c. no. 12 of laredo, there were several things that didn't comply with the original set of rules that was given to us before the contest, for example we were told that only original bands would participate and then they allow cover bands to participate and i don't think the judges were keeping track of the 10 minute set up rule because everyone was taking their sweet time getting the equipment off and onto the stage and they allowed bands to play longer than the 13 minutes of music they were supposed to play originally, and on top of all these only 4 out of 7 judges stay throughout the show to judge the last few bands that played on the latter part of the program and to top it all off the organizers pick a winner based on a total point basis awarded by the judges instead of getting a point average to make it fair for the bands that didn't have all 7 judges present, here's an example:
maximum score possible given by a single judge:100
maximum total score:700
firsts band having all 7 judges having a fair or low score score:
7x80=560 points average:80
7x60=420 points average:60
bands that played at the end of the contest having only 4 judges present and a good score:
4x90= 360 points average:90
4x85=340 points average:85
obviously the bands that played ont he second part of the contest had a better performance and a better score on an average point basis and should be the winner but the organizers still decide to pick the a band with the most points total as a winner disregarding the fact that not all judges were present to judge the second band. this outcome and the way things were handled takes away credibility from this event and its organizers and discourages honest and hard working artists to participate in future events. to the judges who took part on this event we thank you for your time, well at least those 4 of you who stayed the entire contest but at the same time we feel some resentment towards you for handling things in such an irregular and unfair manner. as for the bands that "won" and yes i use quotations because i don't see how that could had been called a true battle of the bands, i congratulate you, after all it wasn't your fault things weren't handled in a professional matter, good luck to everyone.
2-6-2005
just wanted to let everyone know that our recording sessions have turned out great results, unfortunately due to financial obstacles we are forced to slow down the recording process until this financial situation is solved. coming up soon some new video clips from past performances, check back soon, thanks.
2004 shows february 7 @ la oz, nvo laredo, mexico february 13 @ laredo little theatre, music and comedy jam for george (W.B.C.A.) laredo, texas february 28 @ el escarabajo, nvo laredo, mexico march 6 @ flightline, kingsville, texas march 13 @ frank's cafe, hebronville, texas march 27 @ no fly zone (naval air station) kingsville, texas april 24 @ el escarabajo, nvo laredo, mexico may 15 @ el espacio, nvo laredo, mexico june 4 @ el ranchito, "operation muse", laredo, texas june 4 @ battle of the bands, laredo, texas june 26 @ time out lounge, laredo, texas july 24 @ el espacio, nvo laredo, mexico august 5 @ coyote ugly, dallas, texas august 21 @ el espacio, nvo laredo, mexico september 25 @ el espacio, nvo laredo, mexico october 9 @ fat ted's, dallas, texas october 23 @ el espacio, nvo laredo, mexico october 30 @ house party, laredo, texas november 6 @ el escarabajo, nvo laredo, mexico november 13 @ studio 28, lubbock, texas
12-11-2004
just a quick note to let everyone know that we have started recording our new album with the help of forgotten faith studios at our hometown. so far the recording sessions have gone smoothly and with good results. we have great expectations for our new album and we are sure we'll meet or surpass them. for those who are familiar with our music we'd like for you to contribute ideas for an album title or perhaps an art concept, please e-mail us any ideas or post them on our messageboard, thanks.
12-4-2004
we are heading towards the end of the year and we are looking forward to close it with a series of performances out of town. it had been a while since our last performance at el escarabajo but last night's show was great and guest bands faded soul and bb77 also contributed to make it a good one. on another note, we are getting ready to start recording, we shall be heading back into the studio pretty soon, more details... coming soon.
10-17-2004
sadly we have to say goodbye to another music venue in our area. el espacio bar in nuevo laredo will be closing its doors for business after october 23 making our show the last el espacio will host. rumors are that el espacio will be sold and that the new owners will continue to host shows at this venue but that remains to be seen. unfortunately the music scene in our area is not strong enough to support more than a couple of venues where original bands can play or perhaps the el espacio owners did not have the financial support to make it through the first year of business which is the toughest for any enterprise. in any case, el espacio was a great venue since the owners were very supportive of the local scene, unfortunately other than the times when shows were being hosted el espacio had very low attendance. changing subject, we had a great show at fat ted's in dallas, it's a good venue and everyone seemed very pleased with our perfomance, we were asked to comeback and play another show, hopefully we can make this place a staple in our venue roster.
9-2-2004
we start september with nothing on our agenda and this should prove helpful for our band since it'll allow us to focus more on practice and work on new material, we are already making plans to start recording a third self produced album and perhaps we'll be releasing a "single" by the end of the year, sort of a preview of what the next album will be like. our next local show will take place on september 25 at el escarabajo, the place that saw our first lead guitarist frank campero make himself a legend with his great solo playing, we'll see how our new lead guitarist handles the "tough critics". one last comment on the art fest show at el espacio, the show was great and all the bands brought something unique to the table making this show a very interesting one as well as the art display, i think there should be more event s like this one on both sides of the border.
8-8-2004
our last trip to dallas sure was fun and we'll be paying a visit back to big "d" in october, we'll also be visiting our state capital as soon as show dates are confirmed. we are just gearing up for our upcoming gigs at el espacio in nvo laredo and monterrey. as most of you know we have our new deveat shirts available and we'll be posting pictures of them pretty soon.
7-29-2004
it's been a while since our last update to this section but finally we have some good news, with hector gonzalez joining our band we are back in full force and ready to rock more audiences, so far things are going a little bit slow but in time we'll be back at full speed. our first show with hector last saturday was a good one.
5-23-2004
regardless of having to perform as a three piece band the last series of shows has given us nothing but positive feedback from people attending the shows but we still feel there's something missing without the a fourth member, nevertheless we feel more comfortable performing just the three of us for now and the buzz around our band seems to be getting stronger.
4-18-2004
just when things seemed to be heading in the right direction an abrupt change has put a halt on our bands plans at least for the mean time. sadly we make the announcement that our friend and current lead guitarist david barrientos will be leaving the band shortly to take care of his wife and upcoming baby. during our following shows we'll be performing as a three piece band, something we don't really like doing since it takes away from the music, but we have to keep to our commitments , david's last show with our band is scheduled for july 10 in austin texas. any guitarist who think they have the skills and commitment to fill in lead guitar may contact our band at deveatband@yahoo.com or leave their contact information in our message board. auditions start this monday april 19, thanks...it's a long way to the top, one just has to keep on moving forward.
3-15-2004
the last series of shows have been a great experience, the band has developed a new kind of chemistry which has led to great performances. we've been invited to play some dates in the boston area and we are looking forward to give a major upgrade to our home recording studio. so far this year has been really good to our band and there is a positive atmosphere around everything we are set to accomplish. as of now we are preparing on setting some dates for shows in monterrey mexico and in the boston area during summer and the end of the year.
2-08-2004
our first gig with santini as our drummer last night went great, with that out of the way we are looking forward for next friday's show where we'll be performing at the laredo's little theatre at the "jam for george".
1-05-2004
well we've confirmed our first gigs for the month of february and some in march we are still working on setting more dates for march and april as we get ready to go back touring our home state of texas, some plans are in the works for playing some dates in mexico not only adjacent cities to the border but deep south, more details on this as soon as we can confirm more information, we'll take most of the month of january not only preparing for the upcoming shows but working on new material for our third album, hopefully we'll have some of these new songs ready for the shows of february and as usual our friends and fans can expect happy and uplifting songs... not really, if life was a better place then perhaps...life trough our words and music.
p.s. after seeing people getting up to dance to such bleak songs such as "keep you around" and "where are you now?", it makes me wonder about people's way of perceiving things and therefore the diversity of their own interpretations.
1-02-2004
another year, here we go....
12-15-2003
as the year is almost over we continue to prepare ourselves for the upcoming gigs next year, we might have a couple of slots open for any band interested in playing with us on february 7, if any bands are interested please contact us via e-mail.
12-13-2003
first of all we'd like to thank everyone who attended the show at guapo's, second we'd like to announce that we got new decals available, we'll be posting a picture of the new design decals in the merchandise section, also we've been working on a design for a new t shirt. we'll be adding a new section to our website about the members of the band, any ideas or suggestions about what you'd like to see in this website are welcome. finally we'd like to add that our new drummer is getting ready to start playing shows, so far practices have been going smoothly and he should be ready to start playing shows by the end of january. stay tuned for more details about our upcoming third album. once again thanks to everyone for their support.
p.s. by popular demand we'll no longer post pictures of our manager peter on this website...j/k peter you know we love you...well sort of.
11-22-2003
very soon we'll reveal the identity of our new drummer, we want to wish good luck to mando who will be moving out of town by february, in other news, we finished recording the 3 song demo for the band 24/7 and it sounds pretty good and soon we'll finish underboss's album, as the new year approaches we are getting ready to start touring again, any bands interested in doing shows with us locally and out of town please contact us.
11-01-2003
it's hard to believe another year is almost over, our texas tour was a good experience for our band, it helped us become more united both as performers and as friends off stage, currently we are focusing on playing some local gigs and in nvo laredo mexico before returning to play gigs out of town, also we've kept ourselves busy by recording in our home studio demos for two other local bands: underboss and 24/7 , so far the recording for these two bands are coming out pretty good, after that we'll probably start recording our third album depending on how things go with our drummer who has mentioned his intentions of moving out of town with one of his friends, it could happen that we might be looking for a new drummer in the near future, there are so many plans for our band including touring nation wide but it'll all depend on our capacity to keep the same strength in our efforts.
9-19-2003
tomorrow we'll be performing at flight line, kingsville, texas, it's been a while since our last performance there, lately it's been raining a lot here in south texas, we are not only hoping for a good show but for a safe trip. the chemistry and sound of the band just keep getting better and slowly but surely more and more people are getting to know and in most instances like our band. did i mention we are using our new and very own p.a.? speaking of p.a. we won't be having to carry all that equipment to our gig at mcallen the following week that means more space for us in our vehicles.
9-2-2003
well august came by and went just like planned, summer is over and we are looking forward to our next gigs during fall and winter, we continue wrtting new material and working out some parts for some new songs, our next gig at our home town laredo will take place on the 13 of this month at lizards, we'll make sure to have a blast since it's always fun to play for our friends and people who've seen the band grow from its beguining
peter why are you reading this? you already know about this, you should be out there helping promote our band...the love hate relationship with our favorite roadie (ehhemm) manager continues...
7-30-2003
so far things have been going smoothly after the first couple of shows of our south texas tour aside having a tire blow out on our way to mcallen and forgeting an audio adaptor everything has been going as planned, we've had great response from the audience and made a couple of fans along the way.we are looking forward for our next gigs at san antonio
peter mares our assistant roadie has been promoted to sales representative, christina has been doing a good job taping the shows, thank you guys!!!!
7-10-2003
we are working hard to get ready for our south texas tour, things are looking good for our band as the chemistry and sound keeps getting better, also due to popular demand we've just made available to the public our first merchandise items:stickers and shirts.
5-05-2003
our first show with david our new guitarist on may 3 was a complete succes, welcome to our family david, can't wait to start touring this summer now with a complete line up once again, we are back in action and with full force.
in other news we are looking for a new manager as peter mares our former manager has been demoted to assistant roadie, anyone interested in that position contact us at our e mail adress...yes that's what you get peter for not carrying our amps like you used to carry frank's
also we've been thinking of expanding our band and include a keyboard player and or a female vocalist, serious enquiries only contact us at our e mail adress
back to home
2003 shows
march 29 @ ozzma bar,nvo laredo mexico, april 19 @ el escarabajo, nvo laredo mexico, may 3 @ el escarabajo, nvo laredo mexico, july 25 @ sal's pizza, laredo texas, july 26 @ cypress, mcallen texas, august 9 @ alice texas ,august 14 @ tacoland, san antonio texas, august 23 @ sal's pizza, laredo texas, september 13 @ lizards, laredo texas, september 20 @ flight line, kingsville texas, september 26 @ simmmon says 2, mcallen texas, october 11 @ tokyo joe's, lubbock texas, november 22 @ el escarabajo, nvo laredo, mexico, december 6 @ el escarabajo, nvo laredo, mexico, december 12 @ guapo's sports cafe, laredo, texas.
---
---
---